Kyle Conti Construction tackles ecological and geotechnical issues with practical, yet innovative constructability solutions for both the building and the rehabilitation of dams and waterways.
With more than 650,000 dams spanning the globe, dams are the largest market within the water resources construction arena.
Using specialized technology and equipment, KCC constructs and restores dams and waterways; spillways; hydraulic, electric, and manual valves and gates; and all other related structural components. Further, to perform reliably, dams and waterways worldwide require regular maintenance, repair, and rehabilitation. KCC addresses this vital water infrastructure with innovative focus to maximize efficiency and safety for the surrounding communities and environment.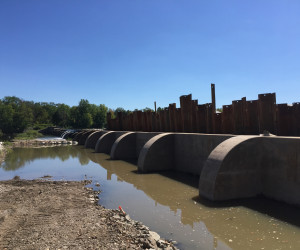 KCC submitted the winning proposal to Princeton University Facilities Organization for this fixed-price contract to perform the Phase I structural repairs to the historically significant Carnegie Lake Dam.
Lake Carnegie was formed by the dam and … has become home to the Princeton University rowing team.
This included repair work to the west abutment and extended 190 feet along the dam into the Millstone River. The 690-foot long concrete dam was built across the Millstone River in 1906 with a generous donation from Andrew Carnegie. Lake Carnegie was formed by the dam and has become a coveted feature to the local community as well as home to the Princeton University rowing team, which uses the lake for crew racing competitions.
Rehabilitation of Lake Solitude Dam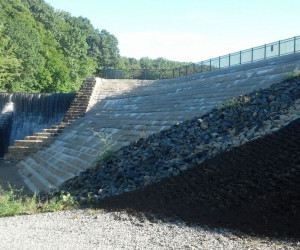 The Borough of High Bridge was required by the NJDEP Bureau of Dam Safety to rehabilitate the 175-foot long by 40-foot high old stone masonry and earthen dam that had been constructed in 1872 to provide cooling water for local factories.
This also created a 30-acre lake on the south branch of the Raritan River. Today, the lake is used for both recreation and flood control, and is also home to a pair of nesting Bald Eagles.