Kyle Conti Construction approaches the design/build process with an eye for innovation and an appreciation for the opportunity to exceed the foremost goals and visions of the client's expectations.
From hand-selecting an A-team of designers and construction professionals to time-saving, cost-effective solutions; the design/build capabilities are consistently delivered on time, on budget, with maximum value to the client.
Research reveals that design/build projects are delivered 1/3 more efficiently using a plan-spec-bid-build method. This is why our process begins by collaborating with clients from the onset of the project—to better understand the scope and objectives. We then customize a plan of action based on client goals and budget. Maintaining excellent client communication through every phase of the project tasks and deliverables, result in clear time and cost savings.
Amtrak Raised Platform & Cable Tray Walkways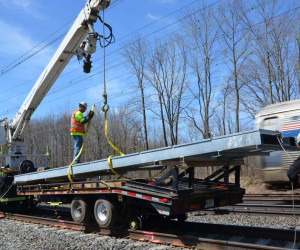 Kyle Conti Construction, LLC competitively bid and won this challenging design-build, fast-track construction contract with Amtrak as part of the New Jersey High Speed Rail Improvement Project on the North East Corridor (NEC) from Trenton to New Brunswick, NJ.
KCC managed and scheduled all work at the site, and worked very closely with its consulting engineer, steel fabricators, and vendors to produce and deliver custom fabricated steel structures and other components on an accelerated basis to meet the aggressive deadlines set by Amtrak. The work performed in this contract allows Amtrak to install new cables and equipment for upgrades to the ET (Electric Traction) and C&S (Communications and Signal) infrastructure along this section of the NEC.
Middlesex County Utility Authority Landfill Stormwater Basin
KCC competitively won this fixed-price contract at the Middlesex County Landfill, which is operated by the Middlesex County Utilities Authority and is New Jersey's largest operating landfill.
All work on this contract was successfully performed by KCC without impacting the landfill operations, which received and disposes of almost 500,000 tons of municipal waste a year.